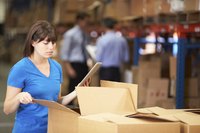 Your quality manual should address the entire scope of the quality management system, including quality related procedures and a description of the sequence of and interaction among the processes in the quality management system. Following some simple guidelines can produce a robust quality manual that actively controls the processes addressed.
Determine the quality system objectives bearing in mind three criteria: the objectives should be customer focused, measurable and in line with the company's vision. Example: "Maintain a customer satisfaction rate of at least 97%."
Introduce the company, define the scope of the quality management system and outline the system. An example: "ACME, Inc. was founded in 2006. ACME designs, assembles, sells, installs and services a range of products in the home appliances industry. The company's quality management system is designed to meet the requirements of ISO 9001 with a scope of registration for the design, assembly, sales, installation and servicing of home appliances. ACME, Inc. is committed to total customer satisfaction at all levels of the organization."
Delineate the quality management system elements, including the system's purpose, the documentation the company prepares to this end, and the document retention policy. Example: "The quality management system's purpose is to continually improve the effectiveness and efficiency of the company's performance. To this end we have a quality manual, quality policy, quality objectives, and operating procedures. We retain our documents for ten years past last production."
Define management's responsibility by stating the quality policy and management's commitment to it, how management ensures customer focus, and the firm's quality planning. For instance: "Management will maintain an environment of continuous improvement in customer service by maintaining employees' training at its highest possible level, and will continuously upgrade that policy by determining objectives, clarifying responsibilities, authority and communication channels and management's review mechanism."
Describe how you provide the resources required by the quality management system, including human resources, competencies, infrastructure and work environment.
Explain how you build quality considerations into your product development process. Describe customer related processes such as customer requirement consideration and order processing, as well as your company's purchasing process, production and service provision and measuring and monitoring processes to ensure conformance to requirements.
Devise measurement, analysis and improvement provisions for both products and processes. Delineate internal audit routines to ensure meeting standards and requirements as well as corrective and preventive measures.