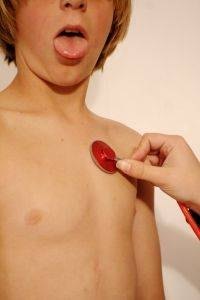 When your body suffers an illness caused by a virus, your immune system can be left weak. It will begin to build itself back up again, but during that time you will be susceptible to catching other viruses or bacterial infections. There are however, some things you can do to help build your immune system faster so that you can get healthy and stay healthy.
Things You'll Need
Vitamin C
Food pyramid
Exercise
Get eight to ten hours of sleep. Your body is better able to repair itself while it's at rest. By providing your body with enough sleep you help your immune system heal itself much faster.
Drink plenty of water. This is especially important if you've had a stomach virus. If your body becomes dehydrated your immune system will have to work extra hard to repair itself. Eight eight-ounce glasses of water per day is recommended. If you have a hard time drinking enough water, try sucking on some Pedialyte popsicles or ice.
Take a multivitamin. Your doctor can inform you as to which is the best brand for you. Multivitamins are especially formulated to support the health needs of women, men, children and seniors. A good multivitamin can help build up the necessary disease-fighting elements in your body.
Add an extra 500 milligrams of vitamin C to your daily regimen for a week or two after you have been ill. Do this in addition to your daily multivitamin. This helps boost your immune system and decreases the chance that you might get sick again.
Use the food pyramid as your guide to eating properly. This ensures that you're getting the vitamins, minerals, grains and proteins you need. A balanced diet will help your immune system but keep in mind that you need to eat fresh and not processed foods.
Begin exercising. If you still feel physically weak, start out small. Spending at least thirty minutes per day exercising can really give your immune system a boost. It also helps you sleep better. Another plus to exercise is that it reduces your stress level. Stress can hinder your immune system and cause it to heal more slowly.