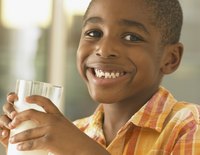 As you age, your bones naturally lose density -- which means they become thinner and more prone to breakage, leaving you more susceptible to injury. Most people reach the peak bone mass around the age of 30 and then bone remodeling slows down. Although this is an unavoidable fact of life, you can help reduce your risk of bone loss through proper nutrition and a healthy lifestyle.
Eat calcium-rich foods. Your body is continuously pulling calcium from your bones and replacing it with new calcium. If calcium is removed and not enough is replaced, bones become weaker and more prone to breakage. Give your body access to all the calcium it needs by consuming 1,000 to 1,200 milligrams of calcium every day. Good sources of calcium include dairy products, broccoli, beans, legumes, nuts, sardines and salmon with edible bones.
Increase your vitamin D intake. Vitamin D helps your body absorb calcium. Without adequate amounts of vitamin D, you won't be able to absorb calcium no matter how much you take in. Keep your bones strong by getting 600 to 800 IU of vitamin D each day. Food sources of vitamin D include tuna, sardines, fortified milk and egg yolk. Your body can also synthesize vitamin D with exposure to sunlight.
Limit your alcohol intake. Alcohol may disrupt the hormones that regulate calcium metabolism. Women should drink no more than one alcoholic drink per day and men should limit alcohol intake to no more than two drinks per day.
Ditch the smokes. Smoking may decrease bone density and increase risk for osteoporosis. Smoking also contributes to high blood pressure, cancer and heart disease.
Get active. Bone is living tissue so, like muscle, it becomes stronger with exercise. Weight-bearing exercises, like weightlifting, running, jogging, stair climbing and basketball are especially good for keeping your bones strong. Try to exercise for 30 or more minutes per day on at least five days of the week.