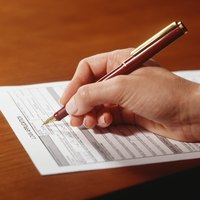 A major obstacle for many entrepreneurs who dream of starting a business is finding the money to get it off the ground. Without investors or substantial personal savings, it may be necessary to take out a small business loan. Small business loans are available from a number of sources. Before you apply for a small business loan, learn what you can do to maximize your chances of getting approved.
Things You'll Need
Business plan
Personal financial statements
Financial statements for the business if applicable
Tax returns
Credit report
Determine how much money you want to borrow and what type of repayment terms you need. You should know beforehand how much you can afford to pay each month and how long you estimate it will take to repay the loan.
Obtain copies of your credit report from each of the three credit reporting bureaus. Prospective lenders will consider your personal credit history and your business's credit history when making a decision about your loan application. Go over your credit report carefully to make sure it's accurate and promptly dispute any errors or incorrect information.
Identify potential lending sources. The Small Business Administration (SBA) does not offer loans directly, but it can assist you with applying for an SBA-backed loan through a bank or credit union. If you don't qualify for an SBA-guaranteed loan, check with banks and credit unions in your area to find out what types of loans are available. You can also try searching online for virtual lenders.
Complete the lender's loan application. Depending on the lender, you may choose to do so in person or online. Be prepared to explain why you're applying for the loan and what the money will be used for.
Submit your loan application, along with your supporting documents. These may include a copy of your business plan, your tax returns for the previous three years, bank account statements, your business license, articles of incorporation and any financial statements pertaining to the business. You may also need to provide information about any property or assets that you're using as collateral.