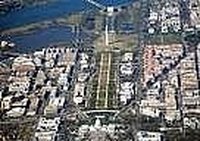 Vacationing in our nations capital is one trip everyone should do in their lifetime. The number of places to see and the things to do are amazing. With a little of planning you and your family can vacation in Washington DC and remember it as one of the best trips you ever had.
Things You'll Need
Book 'Just the Facts about Washington DC'
Determine the length of vacation time. Determine the number of days you plan to vacation in Washington DC. Will your vacation be Friday through Sunday or Monday through Saturday.
Determine how you will arrive in Washington DC.
Can you drive there with your own automobile or do you require air travel. Both of these require hours of travel time. Include this in the answer to step one above. If you travel by plane you will need to rent a car. If you drive you will have the benefit of using your own car of traveling in and out of Washington DC.
Determine where you will stay.
Obtain a local map of Washington DC. See link in resource section below. Identify the hotels in the local area. Circle each one on the map. Call each hotel and obtain price quotes using the information from steps 1 and 2 above. Inquire about discount rates for AAA, Senior Citizens, Kids, etc. Also, ask about travel packages that may offer discounts on mid-week reservations. Finally inquire about parking cost and options.
Contact your local politician. Call your local politician and ask about visitation to the white house, the capital building and any other building that requires advanced reservation. Ask about guided tours vs personalized tour. Inquire about discount tickets to tourist attractions.

Locate all the tourist attractions in Washington DC. Identify all of the popular places on the Washington DC map. Circle each one. Include the main monuments, memorials and museums. Include the Arlington National cemetery. This will give you an overall view of where you will be staying and where each of the tourist attraction places are located.

Determine how you will travel within the city. The streets of Washington DC are crowded with cars and people. If you do not mind, the best way to get around the city is by foot first, then subway and finally car. Traveling by foot allows you to see many buildings along the way to your destination. Traveling by subway is quick and gets you from point A to point B. Traveling by car is convenient especially when you want to visit Arlington National Cemetery.

Plan a iternary. Determine which tourist attractions you would like to see each day. Group tourist attractions that are close to one another. This will allow you to see several of them in a short time period. Include in your vacation timeline, breakfast, lunch and dinner. This can become expensive so plan some cheap options (ie, breakfast at the hotel as part of room package, fruit and nuts for lunch along the way). Recognize you will not see everything during your vacation unless you plan to stay at least two or more weeks. The method of travel will not matter. There are just too many tourist attractions to see that one trip to Washington DC is not enough. Plan to visit again.