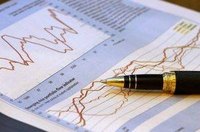 Because corporate and municipal bonds tend to trade less frequently than current United States Treasury issues, investors should proceed with caution when reading bond quotes. In addition, because bonds tend to trade in institutional amounts of $500,000 or more, quoted prices for smaller individual amounts may be very different. Much of a bond's value comes from understanding the bid and offer process as described below.
Read bond quotes carefully. Quotes contain a bid and an offered price. Know that most quotes are representative quotes that indicate the approximate value of the securities. However, a quote that obligates a dealer to buy or sell securities will be a function of the size of the transaction, the liquidity of the bond, and the ability of the dealer to quickly move the bond for sale.
Use a spreadsheet program to determine the value of any bond from its printed quote.This is the method used by mutual funds in pricing their portfolios each day. In column one, input the par amount (the maturity value) of the securities. In column two, input the bid side of the quote. Column three uses the offered side of the market. Add column two and column three and divide by two. Input the result in column four. This is called the mean between the bid and the asked price. Multiply the mean by column one to find the total value of the bonds.
Know that bonds are quoted in points. A point has a value of $10. A bond quoted at 99-101 means the bid side or price a dealer would pay would be a discount of 99 points or $990. Understand that all bonds assume a face amount of par, or $1,000. Price the offered side at a premium price of $1,010.
Be wary of bond quotes stated in terms of yield and not price. Yields may be affected by any extraordinary redemption, which will lower the value of the bonds. Instead, use standard quotes that use dollar prices and eliminate any call issues. Know that quotes do not reflect any imminent calls. Research early redemption and extraordinary call features, especially if the bond is trading at a premium. Know that capital loss can occur otherwise.
Know that a bond quote will not tell you if the bond is in bankruptcy or the credit rating of the bond. You may surmise such issues by comparing the quote with that of other bonds with other ratings. Undertake to learn any credit ratings or important changes in the corporate outlook. Understand that bond quotes simply reflect the current price at which a dealer will buy or sell securities.