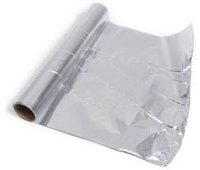 It takes an incredible amount of energy to create a roll of aluminum foil. Recycling is a proactive way to reduce the toll on the environment. Unlike plastics, aluminum is able to be recycled over and over without compromising quality. It's the perfect recycle resource. There are a few steps to follow that can help reduce, reuse and recycle aluminum foil.
Things You'll Need
Add a mild dish-washing cleaner to warm water, and clean larger pieces of aluminum foil. Many times they are reusable if not used to contain raw meats.
Take all pieces of aluminum foil that are too damaged or dirty to reuse or recycle and wad them up into a ball. The next time you are in need of a steel wool pad to clean pots and pans, you are set. It saves money, gets pans sparkling clean and gets one last job out of that piece of aluminum.

Find recycling centers that will accept aluminum foil. Many are not able to handle foil that is extremely dirty and opt to simply not accept any. You will have to contact your local recycler to see if it's an option in your area. If your area does offer aluminum foil recycling, get the word out in your neighborhood. It's a great way to feel like you are doing your part to help the environment.
Remember to recycle cardboard juice containers. They are lined with aluminum and most often a forgotten source of this recyclable metal. The refrigerated cartons also contain an aluminum lining to keep the juice fresh.
Purchase recycled aluminum foil at the store. There are some brands that offer 100 percent recycled aluminum foil products. It's the best way to encourage further demand for recycling.