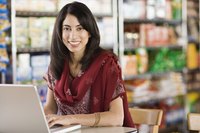 How to Wear a Sari. Spelled either "sari" or "saree," this wrapped and draped dress is donned daily by women from India to Africa, in its various incarnations.
Things You'll Need
Nose Rings
Petticoats
Sandals
Put on the petticoat and tighten the drawstring.
Don your traditional cropped shirt.
Beginning at the navel, tuck the inner top edge of the sari into the left side of the petticoat and wrap the sari once completely around the body, ending once more at the left side. Make certain the hem touches the ground.
Holding the tucked waist tightly, begin pleating material 5 inches deep with your fingers, keeping folds even and straight.
Gather about 1 yard into approximately 7 to 10 pleats. Hold them together so that they fall evenly.
Wrap material fully around your waist one more time going from left to right. Bring the remainder up under your right arm and drape over the left shoulder so edge falls to about knee level.
Tuck pleats into waistband slightly to the left of your navel.
Use a small pin to prevent the end portion, called the pallav, from slipping from the shoulder.
Place a small pin wherever you need a little more security.