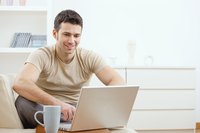 You may not need math training or a formal qualification to do your job, but a basic understanding of business math may be useful to your career. Most well-rounded businesspeople understand the mathematics of business operations, at least on a basic level. There are a few different ways you can brush up on your older math skills or learn something new.
Ask your employer if any company-sponsored programs exist before looking at external training. If you can join a company-sponsored curriculum, you're more likely to learn information that is relevant to your business. You may also score points with your boss by showing extra initiative and a desire to improve your skills.
Use free online courses to brush up on basic skills or learn something more complex. Universities and colleges offer an increasing number of massive open online courses, or MOOCs. These are free programs that use video training and traditional materials to teach people all over the world. As an alternative, look for other free online training options. Kutztown University of Pennsylvania runs various online business programs, and Free-Ed.net has some business math courses.
Take paid courses online. These may not look as good on your resume as formal college courses, but they can cost less than $100 and are often sufficient for learning basic skills. Look at sites like MathTutor.com and E-LearningCenter.com. Some sites offer free trials of learning software, so you can test the service before you buy.
Source and read some books that focus on business math. Some recommended books include "Business Math the Easy Way" by Calman Goozner, "Business Math Demystified" by Allan Bluman, and "Business Math Brief" by Cheryl Cleaves and Margie Hobbs.
Take university courses if you need the help and support of a dedicated instructor. Many universities offer continuing education courses specifically for working professionals, emphasizing basic workplace skills such as business math or financial math. This option may provide the best learning results, but it will typically cost you several hundred dollars.