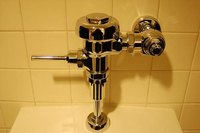 Now that you've acquired the licenses and permits, incorporated your business and purchased your tools and equipment, it's time to focus on how you intend to your run your plumbing business. You've probably realized by now that as the owner of your business, there are many more responsibilities than when you were working as a plumber for someone else. Fortunately, there are many resources available to help you get a better grasp of the business side and how you can successfully operate your plumbing business.
Things You'll Need
Get a handle on the accounting. This may be one of your biggest obstacles if you fail to realize how much work can be involved in keeping track of the money flowing in and out of your business. Refer to your business plan. If you have not yet done so, write one up. Determine how you intend to meet your goals based on your past and current performance. Using Excel, create a Break Even analysis worksheet, which will help you identify when you expect to break even based on what you intend to charge for your services and the costs associated (supplies and salaries). Create a Sales Forecast, Business Cash Flow statement and Business Income statement to help you manage your assets and liabilities. Visit the SBA.gov for help on how to write up your monthly financial statements. Or invest in plumbing software to help you track your business. Insightdirect.com (see link below) offers plumbing software that includes tools to help you manage estimates, customer information, schedules, inventory and payroll. If you choose to outsource your bookkeeping, keep a close eye on your accounts to minimize the risk of fraud. If you have a merchant account, contact them about any free accounting tools they may offer.
Adjust your marketing approach by identifying what works and what doesn't. Ask your customers how they found out about your business. Ask them to write a review of your services in an online directory where your business is listed in exchange for a discount. Put an ad on Craigslist. Post business cards on bulletin boards around town. Contact other contractors in your area, such as electricians and roofers, who may need to sub out plumbing work. In return, you can refer their services to any of your customers in need of contract work. Consider paying to have your business listed on reliableremodeler.com (see link below).
Analyze your technicians' performance. You should know what each one of your technicians is doing at all times. Identify your best technician and your worst. For your business to be a success, your employees must pull their weight. It's your job to reward stellar employees and punish or fire those that do not employ good customer service and use of the company's time.
Offer annual plumbing inspections to your customers as a means of keeping them.
Have someone you can depend on and refer to for help and business advice. Whether it is a family member who is willing to take up the accounting, a former boss, a friend, a SCORE mentor or a professional, seek advice from those you trust. See the link below for information on how to connect with a SCORE mentor in your area.
Find ways to cut costs. Throughout the life of your business, always be looking for ways to cut costs. If an advertising strategy isn't working and you're paying for it, cut it. Contact suppliers about getting better deals on tools and supplies.
Determine an exit strategy in case the business fails, a partner leaves or you decide to retire. Decide what markers you will use to determine when it is time to throw in the towel or sell your business.