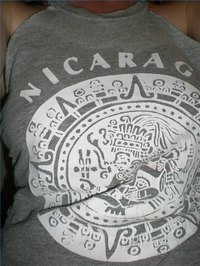 This is moderately challenging for people who are not used to creatively playing with fabric, but easy for the biggest DIY enthusiast. If you are interested in learning how to cut T-shirts into designs, this is a great design to begin with. You can design your T-shirt to be rugged and jagged, or neat and clean--it really just depends on your style! Happy cutting!
Things You'll Need
Measuring Tape
Marker or Pins
Take an old or new T-shirt (it's your choice, really), lay it down on a table so that none of its edges curl up, and cut off the sleeves right where the shoulder meets the arm.

To create a fun, slanted effect, you will want to extend the neck band of your T-shirt a little. Do this by using a measuring tape to mark two to three inches below where your neckline and shoulder seam meet.

Next, take a pencil, marker, or pins to form a line from the armpit area to the mark you just made. You may want to do this to the back as well. Flatten your shirt (use something heavy to weigh it down, if appropriate) to make sure that you will be able to easily cut this line.
Now you are ready to cut! Take your scissors, and cut the lines you just formed. To cut the fabric, hold the fabric tight with the thumb and index finger of the hand you are not using.

Once you cut from the armhole to the neckline, then you will want to curve your scissors upward to cut the shoulder seam. You will know if you have done this correctly if you create a flap where the side of the shirt is no longer connected to the neck band.
Use your scissors to cut the rest of the flap on the back, as well. Voila! You have cut a T-shirt into a design that you can show off at a concert, movie, the farmer's market, or while out shopping.