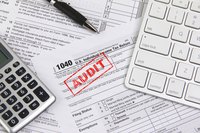 Taxpayers who wait too long to pay their taxes may find themselves confronted with a levy from the Internal Revenue Service. However, taxpayers can request a hearing before the levy to fight it on technical or legal grounds. They can request extensions and installment plans to avoid a levy, and a renegotiation or an Offer in Compromise after the levy begins.
The Levy Process
The IRS has the legal right to seize your property or garnish your wages to collect a delinquent tax debt. Before the IRS levies your assets, it will first assess your tax and send you a demand for payment. If you don't contact the IRS or pay your taxes by the due date listed on the demand, it will send you a notice of intent to levy at least 30 days before the levy begins.
Request a Hearing
You typically can avoid a levy if you have a legally valid reason. If the statute of limitations for your tax debt expired before the levy notice was sent, the IRS can't enforce the levy. Declaring bankruptcy can also void a levy, as can mistakes or errors made by the IRS in the levy process. If you want to fight the levy, you may request a hearing before the levy begins. Along with your intent to levy notice, the IRS will send you a notice with information about your right to a hearing.
Before the Levy Begins
There are ways to avoid the levy process even if you can't fight it. The first and most obvious solution is to pay the tax debt in full. If you don't have the resources to do that, you can request an extension from the IRS, which extends the time period you have to pay the balance. If you can't come up with the cash by the extension date, you may request an installment agreement. This allows you to make monthly payments on your tax debt. Once the IRS accepts an installment agreement, it won't typically levy your assets unless you default on the agreement.
After the Levy Has Begun
After the IRS begins the levy process, you have additional options to stop the levy. You are still able to request a payment plan from the IRS after the levy process has begun. If you can prove that the levy or wage garnishment is causing you a financial hardship, you have a better chance of renegotiating the levy. You may also request an Offer in Compromise if you are experiencing a financial hardship. If your situation is truly dire, the IRS may negotiate a discounted lump sum amount as payment for your entire tax debt.