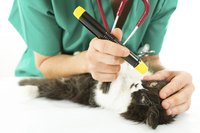 Your cat can suffer from a stroke if the blood supply to his brain is reduced. Two kinds of strokes can affect your cat. A sudden loss of blood supply to the brain will cause an ischemic stroke. When a blood vessel bursts in the brain, it causes a hemorrhagic stroke. It is possible for your cat to recover from a stroke if he gets proper veterinary care.
Diagnosing a Stroke
Strokes are not as rare in pets as they were once thought to be. As diagnostic procedures have improved, veterinarians have been able to diagnose feline and canine stroke victims effectively and accurately. If you believe your cat has had a stroke, your veterinarian will need to perform a physical examination. During that exam, he will check your cat for symptoms of a stroke. Common symptoms of a stroke include vomiting, weakness, lethargy, difficultly standing or walking, head tilt, circling, vision problems, seizures, loss of appetite and unusual changes in behavior. He may draw blood from your pet, take X-rays or perform urinalysis to rule out other potential illnesses. Final diagnosis of a stroke will need to be made using a CT scan or MRI. These tests allow your veterinarian to view your cat's brain and check for changes or anything unusual.
Immediate Treatment
Your cat's medical treatment after a stroke will depend on the severity of the stroke and the severity of the symptoms your cat is experiencing. Your cat may have to be hospitalized at your veterinarian's office so he can receive intravenous fluids, food and be kept warm. Your veterinarian may treat the specific symptoms your cat is experiencing by prescribing anti-inflammatory medication, anti-seizure medication and any other medications that might make your cat more comfortable. A stroke cannot be undone once it has occurred.
Care at Home
You should work with your veterinarian to develop a care plan for your cat when he comes home. You may need to continue to give prescribed medications to your cat. Strokes tend to occur as a result of underlying conditions such as heart disease, high blood pressure, thyroid problems, diabetes or even as a side effect of trauma. You can make your cat's recovery process easier on him by putting his food, water and litter box in a small, relatively confined area that will be easy for your cat to access despite a possible loss of coordination or balance. You may want to keep other pets away from your cat so they cannot harass or antagonize him during his recovery.
Long Term Care
Your cat's long term prognosis is fairly good after a stroke, provided he gets proper and immediate veterinary care. Long term, your cat will need to visit the veterinarian on a regular basis. Your veterinarian may choose to monitor your cat's blood pressure and run periodic blood tests on him to ensure any other conditions he has are being controlled adequately.