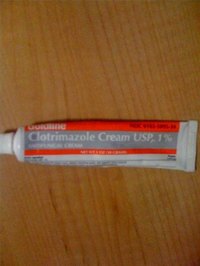 Canesten cream is a topical antifungal skin cream used to treat fungus infections like ringworm and jock itch. It can also be found under the name clotrimazole, which is also the active fungus-fighting ingredient in the cream. Canesten cream is usually prescribed by a doctor and must be used according to doctor's orders. With regular use, canesten cream clears up most fungal infections within four weeks.
Things You'll Need
Wash your hands thoroughly before applying the canesten cream.
Cleanse the area to be treated with a gentle cleanser and warm water. Make sure skin is free of any scented body lotions and perfumes.
Pat the area dry with a soft towel. Do not rub the towel against your skin.
Apply a thin layer of the canesten cream to cover the infection for athlete's foot, jock itch and ringworm. Make sure you follow your doctor's instructions on how much to use.
Use canesten cream in this manner twice a day--in the morning and in the evening before bedtime. For jock itch, use twice a day for two weeks. For ringworm and athlete's foot, use twice a day for four weeks.