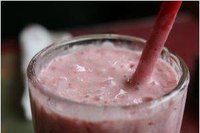 Protein is a building block for muscles. It helps the body repair and rejuvenate itself. This makes it an important item for those trying to build lean muscle. Protein is also satiating, so if a person ups his protein intake he is likely to eat less and lose body fat. Protein shakes are one way to increase lean protein intake, build muscle and lose weight. However, they do not always taste delicious. Fortunately, there are ways to improve the taste of protein shakes.
Things You'll Need
Sugar-free, fat-free pudding mix
Frozen fruit
Milk or juice
Peanut butter
Extracts or spices
Stir a spoonful of sugar-free, fat-free pudding mix into the protein shake. Experiment with different pudding and shake flavor combinations.
Add frozen fruit in the place of ice cubes when blending the shake. Purchase bags of frozen fruit from the grocery store or make your own by washing and freezing fresh fruits such as grapes, cherries and berries.
Replace water used to make the protein shakes with fat-free or low-fat milk or fresh or frozen fruit juice.
Stir in a spoonful of natural peanut butter. Not only will this help the shake taste better, but peanut butter will add even more healthy protein to the shake. Try it with chocolate or vanilla flavored protein shakes.
Add extracts and spices to the protein shake, such as vanilla, peppermint or almond extract or spices such as cinnamon or nutmeg.