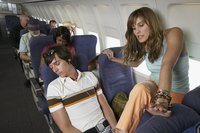 Being in an airplane, where you may be crammed into small seats and sitting between strangers, is uncomfortable enough without feelings of nausea. Try an assortment of methods to prevent or relieve air sickness. These can range from diet supplements to common-sense techniques such as not reading and keeping your vision level.
Things You'll Need
Motion sickness wrist band
Ginger ale
Crackers
Request seats forward of the window exits or near the wing area. Consider spending money for first-class seats. An airplane feels the turbulence more in the back than it does in the front. You will be bumped around much more if you are sitting behind the window exits and close to the back of the aircraft than in the front.
Bring the right supplies to help prevent air sickness. Invest in motion sickness wrist bands and wear them before you take off. Don't take them off until you reach the ground. Try over-the-counter motion sickness medicines -- some of them have nondrowsy formulas. Purchase a bottle of water, a ginger ale or clear soda after you get through security. Bring a cloth that you can wet with your water bottle. If you get too hot or feel nauseous, you can wet the cloth and put it behind your neck and forehead to cool off. Many airlines don't serve food anymore, so make sure you have something to munch on that can settle your stomach, such as saltine crackers and plain bread.
Make sure your air vent is turned on and blowing in your direction. Loosen your clothes and try to avoid heavy foods if food is being served on the airplane.
Close your eyes and listen to your MP3 player. Trying to take your mind off feeling sick will help. Take slow and deep breaths. Breathe in through your nose and out through your mouth. Closing your eyes, taking deep breaths and meditating will help you relax.