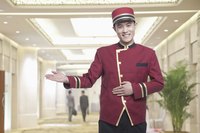 Running a hotel is more than just cleaning and booking a room. You need to establish a clear and thorough marketing plan to distinguish your hotel from the others in your area. The competition among hotels is stiff, as many are usually located in the same section of town. Once you sit down and start creating your marketing plan, you may brainstorm that one special idea that will make your hotel stand out from the rest.
Identify your target customers. They may be business travelers, vacationing families or a mixture of both. Consider the location and theme of your hotel to decide who is most likely to book your rooms. If you're near a ski resort, your customers most likely will be adventure-seekers, outdoor lovers and skiers.
Decide on a marketing message to reach each target audience that you've identified. For instance, "A comfortable hotel for budget travelers" or "An ultra-luxurious get away for lovers."
Determine the average per-night price you'll charge your hotel guests, and write this into your marketing plan. You can establish a range of prices that will apply across all of your market segments.
Discuss any changes and renovations that you need to make to your hotel to make it more attractive to the segments that you identified. For example, maybe you need to establish a personal concierge service if your target customers are business travelers. Discuss the strengths and weaknesses of your hotel and how improvements can be made.
Decide on an overall strategy for reaching each marketing segment that you identified in the last step. Consider what your target customers read, which websites they visit, how often they travel, whether they bargain-hunt extensively and whether they book over the phone or online. If your target customers are thrifty and technologically savvy, they will most likely go to websites such as Priceline.com or Hotwire to book a room. If you run a luxury hotel that will serve customers who don't care about price, seek to reach customers through arrangements with travel agencies that serve wealthy travelers.
List all of the activities, advertisements and promotional ideas that you will implement to reach the customers in each segment you identified. These should be well-defined action steps that you will take toward reaching the customer. For instance, you can promote packages that provide discounts on foods, drinks and local entertainment. Highlight premium services, like in-room massage, escort referrals and free bottles of liquor.
List the marketing budget to go along with this plan. List each cost next to the action steps in the previous step to clarify where your dollars will be going. Estimate the cost of renovations and other hotel costs that you decided on.
Establish a plan of action for how you will respond to the competition. For instance, if the competition mimics your strategies, discuss how you will modify your plan to maintain an advantage.
Assess your overall goal for the hotel and your current status. For example, "Our goal is to achieve a minimum 80 percent occupancy rate during busy seasons, and 60 percent in off seasons. We are currently at 40 percent and 20 percent, respectively." Re-evaluate your marketing plan every year or two to keep your ideas fresh and account for changes in the market.