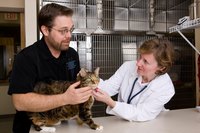 Caring for a cat with the feline equivalent of AIDS, or the feline immunodeficiency virus, is a challenge. There's no cure for FIV, or specific treatment. The average cat diagnosed with FIV succumbs within five years, but many cats live long, relatively normal lives post-diagnosis. Much of that longevity is attributable to good supportive care and regular visits to the vet.
Feline Immunodeficiency Virus
You can't tell whether or not a cat has FIV just by looking at him, although if he's in the latter stages of the disease there is obviously something quite wrong with him. Many cats appear healthy for years after exposure. Early on, an infected cat might experience a fever accompanied by swollen lymph nodes. He might appear to recover for some time, deteriorate rapidly or have bouts of illness followed by healthy periods. A cat with chronic FIV usually suffers from constant skin and mouth infections, diarrhea, eye problems, neurological problems and weight loss. Cancer and other serious diseases are common as well.
Indoors Only
While your cat probably picked up FIV from another cat while roaming outside, he must spend the rest of his life indoors. That's to protect him from other outdoor cats, and to protect them from contracting FIV from him. It's also likely your cat was intact when he was infected. Your vet likely will neuter or spay your cat, reducing his urge to stray. Keep your cat's life as stress-free as possible. Maintain a close eye on him if there are any changes in the household, such as the loss or gain of a member, or relocating to another dwelling. Contact your vet if problems arise.
A Healthy Diet
Your vet will recommend a healthy, well-balanced diet for your FIV-positive cat. While most high quality commercial cat foods qualify, your vet might prefer that your cat consume low carbohydrate, high protein meals. Just as important is what you should not feed your cat. A raw diet is out, because parasites or bacteria in such meats can harm a cat with a compromised immune system.
Regular Checkups
Take your cat to the vet at least twice annually for a wellness examination, including urine and blood testing. If he develops even the slightest symptom of an illness, he must go to the vet immediately. Keep a record of even the slightest changes in his behavior, eating or elimination habits. Your vet might prescribe medication to enhance his immune system, or recommend vitamin or other supplements. For example, lysine supplements can keep mouth ulcers at bay. If your cat does get sick, your vet will prescribe medication or offer treatment for the symptoms.
Other Cats
While it's probably best for an FIV-positive cat to live alone or with similarly afflicted felines, many FIV-positive cats can live with FIV-negative cats with no detrimental consequences to the latter. Since FIV is spread primarily via bites, if the cats get along, the risk is low. Your FIV-negative cats must live exclusively indoors. Your vet can vaccinate your negative cats against FIV, but the shot isn't 100 percent effective. Once vaccinated, it's hard to tell whether the FIV antibodies in the blood result from the disease or the inoculation.