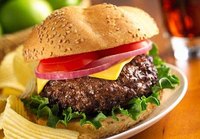 There are dozens of different so-called hangover cures, and what works varies from person to person. One hangover cure is to eat greasy foods before and after drinking, since the fatty grease lines the stomach and makes alcohol absorb into your system at a slower pace.
Things You'll Need
Eat some greasy food an hour or so before drinking to line your stomach with the fatty grease. This helps slow down the absorption of alcohol into your system. Good options for greasy food include burgers, french fries, hot dogs, pizza, hash browns and bacon.
Take a large spoonful of olive oil and swallow it to take the place of the fatty food if you do not like eating fatty foods. The good fat in olive oil will take the place of the greasy food, lining your stomach.
Eat some greasy food at the first meal you have the next day after drinking for a hangover. Your meal of the greasy food or olive oil the evening before will aid in curing a hangover, but the key is to eat greasy food or have the spoonful of olive oil again the next morning.