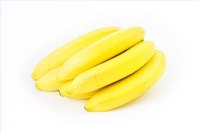 The body needs potassium for optimal functioning of the heart, muscles and nervous system. The normal range of potassium in the blood is between 3.7 and 5.2 milliequivalent per liter, according to the U.S. National Library of Medicine. Extremely low levels of potassium, a condition called hypokalemia, can be life-threatening and is usually caused by medications or other medical conditions rather than diet. Even slightly low levels, however, can lead to problems such as high blood pressure.
Add foods rich in potassium to your diet. These include: bananas, peaches, kiwis, Brussels sprouts, lima beans, peas, oranges, tomatoes and peanut butter. Doctors recommend about 4,700 milligrams of potassium a day.
Ask your doctor about potassium supplements. Common supplements on the market include: potassium acetate, potassium bicarbonate, potassium citrate and potassium gluconate. Most multivitamins contain potassium as well.
Consider salt substitutes that contain potassium chloride. In addition to raising potassium levels, this also will help lower sodium levels, which can help with problems such as high blood pressure.
If taking diuretics, ask your doctor whether you should switch to a potassium-sparing diuretic. Many diuretics force potassium out of the body as it causes excretion of sodium and water. Some--including amiloride, eplerenone, sprinolactone and traimterene--do not have this effect.
Cut down use of laxatives and colon-cleansing products, which remove potassium from the body. Switch to a more diet-based approach to treat constipation, increasing the intake of water and fiber while cutting down on foods with refined carbohydrates, such as flour and white rice.