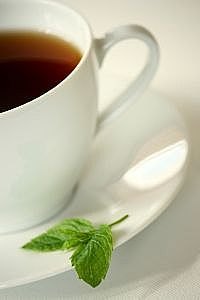 Herbal slimming tea can be used by overweight people to reduce their weight when used in conjunction with exercise and a balanced diet. The herbs in the weight loss tea work together to rid the body of toxins and promote the excretion of fat cells. However, drinking the tea alone will not work. An effort must be made to cleanse the body, eat well, and exercise. Although slimming tea can help significantly, eating less calories and becoming more active is the only real way to lose weight and keep it off.
Things You'll Need
Dried birch leaves
Dried raspberry leaves
Dried blackthorn flowers
Dried goldenrod
Dried rose hips
Dried calendula flowers
Plastic freezer bag
Glass jar with lid
Labels and marker
Honey (optional)
Lemon (optional)
Fresh mint (optional)
Combine four parts dried birch leaves, four parts dried raspberry leaves, three parts dried blackthorn flowers, two parts dried goldenrod, one part dried rose hips and one part dried calendula flowers in large plastic freezer bag.
Blow into the bag to inflate it and hold tight at the end to keep it inflated while you shake the herbs vigorously to combine. Transfer the mixture to a glass jar with lid and label with the contents.
Steep one tablespoon of the herbal slimming tea blend in one cup of water for 10-15 minutes. Strain and discard the herbs. Sweeten the tea with honey and garnish with lemon and fresh mint, if desired.
Drink up to five cups of the weight loss tea per day, and continue the regimen daily until the desired amount of weight is lost. Exercise at least 30 minutes three times per week and eat a well-balanced diet for best results.