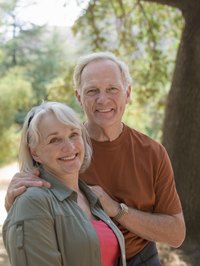 Calculating the amount of money you require for retirement should be done by a licensed financial planner, but there are ways you can estimate your monetary needs yourself. Understanding how your debts and assets play a role and figuring out how much income you'll need monthly is key to determining how large a supply of money you'll have to save. A number of calculators are available online that can help you estimate how much you'll need, and a variety of vehicles such as 401(k)'s, IRA's, employee pensions, and Social Security can be used to achieve your goals.
Monthly Expenses
Professionals estimate that the amount of money you'll spend in retirement is 15 percent less or more depending on your lifestyle. You'll save fuel by not traveling to work and back and certain hobbies tend to decline during retirement years, which can represent significant savings. Decide what's right for you. Downsizing into a smaller home, or moving to a more tax friendly state can help cut expenses.
Calculations
Doing the math to figure out exactly how much money you need to maintain your lifestyle can be a laborious process. Understanding the rules for required minimum distributions and tax laws should be left to professionals, but sites such as the Social Security Administration can help you estimate your monthly allowance. Money that has been accumulated through other means, unless hefty enough to generate enough on interest or dividends alone, requires using a financial calculator to determine what kind of interest rate you'll need in order to generate retirement income and keep up with inflation.
Insurance
Insurance is a critical part of planning your retirement fund. Health insurance costs are rising, and Medicare is not available until age 65. Life insurance policies, accident policies and health-care supplements need to part of your calculations. If you plan to retire before age 65, you'll need to purchase a health coverage plan on your own which can run upwards of $400 a month or more.
Retirement Vehicles
When retirement is in question, there are many channels that help you save while deferring taxation. The most popular and familiar is the company sponsored 401(k) plan. Pre-tax money is deducted from your paycheck and placed into an account; your employer matches the money, usually tiered up to a certain amount. This allows your investments to grow tax free until you can begin to withdraw them beginning at age 59 and a half. IRA's work with the same concept except that employers don't match contributions. A relatively new invention is the Roth IRA or 401(k), which doesn't withdraw pre-tax money, but allows it to gain interest and then it's withdrawn without incurring any tax penalties.
Conclusion
Retirement brings to mind a different concept for each individual, so estimating costs varies greatly. Other than retirement-based accounts, mortgages represent a large portion of a retirement portfolio as well. If the house is paid off, or nearly paid off, a reverse mortgage could be an option that generates a monthly income. For the risk adverse, annuity products guarantee income for life and can be purchased either as a lump sum policy, or paid over a period of years. Ideally, a retiree should be utilizing many different forms of investment platforms to provide a comfortable lifestyle. The younger you start planning for retirement, the more money, and therefore options, you'll have.