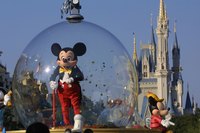 Say goodbye to FastPass at Disney as we know it. As of 2013, FastPass+ is the new and improved line-cutting feature at the Walt Disney World Resort. Gone are the paper passes you once used to avoid waiting in long lines for the rides of your choice. Instead it's MagicBands, electronic wristbands that you use to "tap" into a ride. All your FastPass+ selections must be booked online in advance or at designated kiosks throughout the resort. FastPass+ includes more than rides; you can use it to book special experiences like Disney character meet and greets.
Things You'll Need
Disney World tickets
Disney Resort hotel reservations (optional)
MagicBand or RF-enabled card
In Advance Online
Create an account on the My Disney Experience website. As FastPass+ is entirely an electronic and online reservation system, you have to create an account and link to that account the tickets you purchased to Disney World, as well as any Disney resort hotel reservations you purchased. You also need to link the tickets of everyone traveling with you, both children and adults, so that you can book your FastPass+ experiences together.
Select your FastPass+ rides or experiences. You can book three initial FastPass+ attractions, but they all must be from the same Disney park. Select the park, then you can choose from the available experiences and times listed. If you are staying at a Disney Resort, or you are an annual passholder, you can book FastPass+ attractions 60 days in advance. If you are not staying at a Disney resort, you can book them 30 days in advance. You can make changes to your selections at any time.
Request that your party's MagicBands or radio frequency-enabled cards (RF cards) be shipped to you. The MagicBand is a rubberized wristband RF device that holds all the information about your tickets, hotel and FastPass+ selections. Guests staying at Disney Resorts are given MagicBands for free, which can be shipped to your home or picked up upon arrival at the hotel. Guests not staying at Disney Resorts will have RF-enabled cards shipped that contain the same information. However, you can purchase MagicBands to use instead of the cards at various retail locations on the Disney World resort. The cards and MagicBands also act as your ticket to enter the parks.
Download and use the My Disney Experience mobile app upon arrival at Disney World to add more FastPass+ selections after using your initial three. You are free to select as many FastPass+ experiences as you would like after your first three are used up, but you can only select one at a time. You must use each additional FastPass+ reservation before you can get another.
Tap your MagicBand or RF-enabled card to the FastPass+ return stanchion at your selected ride or experience during the window of time you were given. If you are wearing MagicBand, make sure that the Mickey face is facing the Mickey face on the stanchion to effectively "tap." Enjoy your ride or experience.
Booking at Disney Parks
Wear your MagicBand or bring your RF-enabled card with you to enter the Disney park of your choice.
Locate a FastPass+ kiosk. The kiosks are located throughout the Disney parks, including at the entrance, guest services and at rides that offer FastPass+.
Touch your MagicBand or RF-enabled card to the kiosk reader where indicated to pull up your My Disney Experience information. Create a profile and link everyone in your party to your account if you have not already done so in advance. You will need to have the ticket information or MagicBands of each person to link everyone together at a kiosk.
Select three FastPass+ experiences based on what is available at the specific Disney park you are in and the times available. You cannot make FastPass+ reservations for any other park but the one you are in.
Tap the FastPass+ stanchion at the rides or experiences of your choice at the allotted time frames you selected. Use the My Disney Experience app to make changes as you go and add additional FastPass+ selections throughout the day.