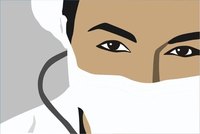 Gauged ears are ears that have been pierced and then stretched to fit larger and larger plugs in the lobe of the ear. Gauged ears are prone to infection, especially when they are being stretched. If you choose to gauge your ears, get them pierced at a professional and do not stretch them too quickly to avoid tearing and infection. Clean your gauged ears every day to promote a healthy, safe gauging process.
Things You'll Need
Cotton swab
Hydrogen Peroxide
Sterile glass or container
Wash your hands in antibacterial soap.
Fill a sterile glass or container with hydrogen peroxide. Sterilize a glass or container by placing it in the dishwasher on "hot" and removing it immediately after the cycle has completed.
Remove your ear plug and place it in the glass of hydrogen peroxide. You will see bubbling on the glass--these are hydrogen bubbles cleaning the bacteria from your ear plug.
Dip a cotton swab in hydrogen peroxide.
Carefully swab around your ear lobe, focusing on each crevice. You may feel some stinging, which is normal.
Remove the ear plug from the hydrogen peroxide with clean, washed hands. Place the plug back in your ear. Repeat the process every night before bed.