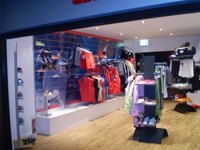 You have always dreamed of owning a retail outlet and have made the decision to pursue your goal. The prospect of securing start-up funding, writing a business plan, finding a location, buying merchandise and marketing can be daunting for anyone. With commitment, resourcefulness and tenacity you can make your dream come true. Below you will find helpful tips to pave the way for your outlet's success.
Things You'll Need
Start-up capital
Retail location
Business plan
Merchandise
Consider your up-front start-up costs, and have a plan to fund your retail outlet. Thousands of dollars are needed to support the leasing of space, inventory, employee salaries, business taxes and office equipment. Marketing and a website can also be included in your financing plan. Options for funding your business include personal capital, loans from family members or friends, bank loans or venture capital.
Decide on a location for your retail outlet. Consider a high-visibility area, such as a shopping mall, plaza or downtown location. Consider your target market--the type of customers you are hoping to attract. If possible, select a location where your store will be most visible to them.
Write a business plan. A business plan is needed to secure funding for your new retail outlet. If you are writing the plan yourself, utilize books and online resources, which can guide you. Your business plan highlights your need for capital, provides details of your vision for the retail outlet and includes your marketing plan. Your business plan is the blueprint for your outlet's success.
Determine which merchandise you will feature in your store and where you will purchase it. Research wholesalers and other vendors to supply your merchandise. The term "outlet" will give customers the impression your store sells higher-quality, name brand products at a lower price, so you may want to keep this in mind when setting your prices.
Market your new retail outlet to your target audience. Focus your advertising and marketing efforts to reach those customers who are most likely to frequent your new store. Place ads in local publications read by potential customers. Put flyers, announcements, coupons or circulars where potential customers are most likely to congregate. Send a press release to local newspapers and television stations announcing your grand opening.