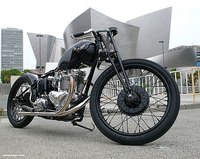 With a little effort on your part, cheap motorcycle insurance is possible to come by. There are a few things you need to consider prior to even beginning to obtain motorcycle insurance quotes.
Consider your age and driving record. Any prior accidents that are on your current record will count against you even though you are after motorcycle insurance. Insurance rates will also be higher if you haven't had motorcycle insurance before. Once you've become a more experienced rider and keep your record clean, your rates will begin to decrease over time.
Think about the kind of motorcycle you have. Faster motorcycles or sport bikes are going to be more costly when it comes to insurance, as will new models. The more basic, older models will be cheaper to insure.
Determine how close you live to your employer and whether you live in a high crime area. If you can keep the mileage down, you could receive extra discounts on your motorcycle insurance policy. If you live or work in a high crime area, your rates could be increased.
Do not over insure. If something were to happen to the bike, you're only going to get the market value, so there's no need to pay extra insurance to have coverage that is unnecessary.
Keep your motorcycle garaged. You may receive an extra discount with some companies if the motorcycle is kept in a garage at night or when parked.
Shop around for the cheapest motorcycle insurance. Contact the big companies as well as smaller, local companies. Even though the big companies offer free quotes online that are easy to access, they may not have the best prices and you could end up paying more than you need to for motorcycle insurance. Pick up the phone or visit local insurance companies to get a motorcycle insurance quote.