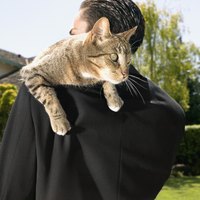 Cats are safest kept indoors. Providing an enriching indoor life for your cat is one way to prevent wandering. Alternatively, safe outdoor access and supervised excursions out of the home can keep kitty close. If wandering is a consistent problem, there may be an underlying medical issue. Your vet can advise on steps to take from a medical or behavioral perspective, such as getting your cat spayed or neutered. When you move to a new home, give your cat plenty of time to adjust and become familiar with her surroundings before letting her outside.
Indoor Cat, Happy Cat
Keep your cat indoors to maximize her safety and minimize her ability to wander. Provide ample stimulation with daily play sessions, a patch of indoor cat grass, cat furniture and a sunny window if you are able. Particularly luxurious indoor cat accommodations include an enclosed outdoor area, such as a screened-in porch. Give your cat ample space for time alone when she does not feel like socializing with people or other pets.
Outdoor Cat, Safety First
Outdoor cats should receive appropriate medical care and wear identification to keep them safe. They should be neutered, up-to-date on vaccinations and have identification, such as a microchip. Consider harness training your cat so you can walk her on a leash. If you accompany her outdoors, you can keep her safe from predators and traffic, and prevent her from eating toxic plants or vermin that may carry disease.
Address Underlying Behavior
If your cat tends to roam, speak with your veterinarian for advice. A veterinarian can help assess what is causing the roaming behavior based on medical tests, and if it coincides with other behavior, such as inappropriate elimination or marking. A cat who has not been spayed or neutered is more likely to roam. She may also have separation anxiety. A cat who used to go outside and has been brought in permanently may try to escape, since she does not realize she is safer inside the home.
New Home Introduction
Both indoor and outdoor cats need time to adjust to a new home. During transport to the new home, keep your cat secure in her carrier until arrival. She may try to escape during the ride or if given free access to the new house. For the first several days at the new location, keep your kitty in one room with her litter and food until she has time to adjust. Afterwards introduce her to the rest of the house one room at a time. Consider leash-walking the cat or accompanying her outside for the first few times, but only after she has become thoroughly familiar with the new house.