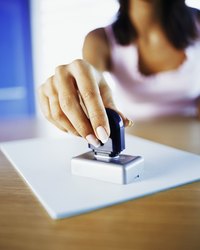 If you don't yet have a green card, but you've applied for one and your case is pending,.a "travel document" (or "advance parole") allows you to exit and then reenter the U.S. It usually takes up to three months to get a regular travel document, and it's good only for one year. If you need to exit the country as soon as possible (to attend a marriage, a funeral or another unexpected event) and you don't have time to wait three months, you will have to apply for an expedited travel document.
Things You'll Need
Download form I-131 (uscis.gov/files/form/i-131.pdf) from the USCIS website, complete it and send it together with any required documents (this will depend on your status and case) and the fees.(as of September 2011, the fees are $365 for the application and $85 for the biometrics).
Make an appointment usingthe InfoPass service at the USCIS (INS) website (infopass.uscis.gov) as soon as you receive the NOA (Notice of Action) for your form I-131.
Gather all the documents that prove that you need to leave immediately such as medical diagnostics, a death certificate or birth certificate, proof that you need to complete college in your country -- -anything that applies to your situation.You will also need three passport-style photos.
Go to the USCIS office in the day of the appointment. Make sure that you have the NOA from Form I-131, your passport-style photos, passport and any documents that prove that you need to leave the U.S. urgently.If you are adjusting your status based on marriage, don't forget to bring your marriage certificate and NOA for form I-475.
Explain your case.to the immigration officer. If you are approved, you'll receive two travel documents (valid for one year and for multiple travels) in the mail.