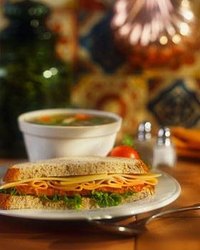 Even in a bad economy, sandwich shops often thrive if they are in a location with a lot of traffic. Everyone from business professionals to college students takes advantage of this staple of convenient, on-the-run eating. Once you open a sandwich shop, however, you must run it effectively to reach the most customers. Here are some helpful tips.
Things You'll Need
Hire the right people. If you're starting a small shop with limited hours, you may want to have family members work for you. As you grow and expand, however, you will need to hire additional people. Be thorough in explaining your expectations, including the expected work hours. Hire people who are friendly, courteous and reliable. Customers are more likely to return if they have positive interaction with the staff.
Offer distinctive selections on the menu. Along with the standard deli meat sandwich, consider offering wraps and a variety of salads, soups and desserts. Have healthier and vegetarian options, because you want your menu to appeal to as wide a range of people as possible, from those looking for a corned beef on rye to others who may want an arugula, chicken and feta salad.
Keep the shop clean and offer a comfortable seating area. Customers will return to a sandwich shop that is neat, clean and has space to eat inside. Wash the floors regularly, wipe down counters and tables and keep self-serve condiment areas clean. Decor can be simple but tasteful. Make sure employees use latex gloves when handling food.
Market effectively, which will take time and money. Have to-go menus printed and send them to area businesses. Advertise in publications--the local weekly if you cannot afford an ad in the daily paper. Offer coupons, such as "free coffee with any breakfast or lunch sandwich." As your shop expands, consider providing local delivery service and catering.
Utilize computer software to manage your business. Accounting software such as Quicken will help manage your finances. There also is software available to simplify payroll, vendor expenses, accounting and other administrative functions.