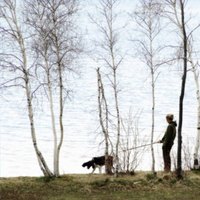 Why settle for a boring one-color dog lead when your dog is so much more interesting than that? Create a unique lead that expresses your dog's personality instead. This quick and easy project requires only basic sewing skills and a few low-cost materials. The wide variety of options makes it possible to make a one-of-a-kind lead that won't be like any other dog's in the neighborhood--an individual fashion statement that will make walks all the more fun for you and your dog.
Things You'll Need
Metal clip with space on end for inserting webbing of desired size
Cotton or nylon webbing, 4 to 6 feet in length
Decorative trim the same width as the nylon webbing
Straight pins
Heavy-duty thread
Heavy-duty hand sewing or machine sewing needles
Clear nail polish or Fray-Check
Use decorative trim to make a fun and colorful lead, or use only the nylon webbing for a simple, plain lead. If using trim, first pin the trim along the entire length of the webbing, then sew trim into place by hand or use a sewing machine. Repeat on the opposite side of the webbing.
Insert one end of the plain or decorated webbing through the loop on the end of the metal clip. Make a loop of at least 2 to 3 inches, then sew the loop closed, securing the clip into place.
Create a larger loop at the other end of the webbing. You will insert your hand through this loop while you hold onto the leash, so make it large enough to hold comfortably. Sew the loop closed by hand or using a sewing machine.
Prevent fraying at the sewn ends of the lead by painting the raw edges with clear nail polish or a product like Fray-Check.
Test the leash on your dog indoors before using it outside to ensure that your sewing is strong enough to resist the tension created by your dog's pulling on the lead.