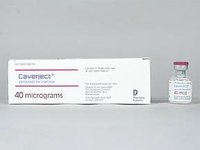 Treating erectile dysfunction is serious business. Caverject, a new erectile malfunction treatment, combats a sub-par sexual performance by increasing blood flow to the penis. Increased blood in the genital region helps establish and maintain an erection. While the solution sounds simple, administering the drug properly is essential.
Things You'll Need
Caverject medication
Rubbing alcohol
Cotton swab
Sterile injection needle
Swab an area near the base of the penis with rubbing alcohol to sterilize the injection site.
Fill the needle with medication, extracting the Caverject from the prescription vile. Secure the amount of medication as prescribed by your doctor in the needle's applicator.
Slowly insert the needle under the area sterilized in step one. Inject the Caverject into the sterile area at the base of the penis. If this is not the first time using Caverject, make sure the injection site is not on the same side of the penis as the previous injection.
Ensure the entire dose of Caverject is injected into the penis before removing the needle and pressing a cotton ball at the site of the injection. Continue pressing the cotton ball for up to five minutes, to prevent bruising at the injection site.
Wait at least one day before administering Caverject again.