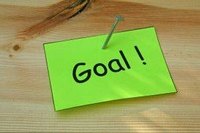 Setting goals is an important part of everyday business. They allow you to look forward to the future and keep your business moving forward. In settings involving multiple parties, the best goals will be those established with input from all employees and team members. Here is how to set team goals.
Things You'll Need
Method to communicate with all team members
Meeting place
Gather your group together for a team meeting. It's a great idea to announce it with a formal memo that includes the scheduled date, time and place. Consider having snacks or lunch brought in so everyone is focused on the goal-setting task at hand.
Discuss why you've called the meeting with your team. Explain that you hope to achieve some goals in the future that will ultimately help the business and the team as a whole. Make sure your team understands why goals are important in the office setting.
Install a flip chart board or use a whiteboard, and begin a brainstorming session eliciting ideas from all present on some team goals that they think would be appropriate and achievable. They could be in any number of areas, including improving the sales record, the benefits if everyone is consistently on time to work, or better team relationships.
Discuss how to accomplish each goal. For instance, if you want to achieve a better sales record, then perhaps you will set a number of sales that the team should get per week, and decide on a reward for reaching that goal. Avoid making broad generalizations. Specific goals are more easily met when they are clear-cut.
Distribute a memo containing all the goals you've discussed with your team. Review them each time you have a meeting, and post them in conspicuous places as a reminder of what the team discussed and agreed upon.