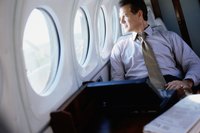 Aer Lingus operates flights to the U.S., throughout Europe, Turkey and North Africa. The airline is Ireland's flagship carrier, with the government owning 25 percent of the company. Aer Lingus does not offer a first-class section. Instead, the carrier offers business class as an upgrade from economy class for its transatlantic flights.
Gold Circle
In business class, you'll enjoy 58-inch seats that recline into a bed, more personal space, your own in-flight entertainment system, free alcoholic beverages -- including predeparture Champagne -- complimentary Wi-Fi and an upgraded dining menu. The Gold Circle frequent flier program allows you to earn miles by flying with Aer Lingus and its affiliated airlines. Earning enough points qualifies you for different rewards tiers from Gold to Elite. Qualifying for any tier allows you access to Aer Lingus lounges inside certain airports and puts you into position to receive free upgrades. Simply get to your departing airport early and ask for a free upgrade through the program.
Make a Bid
Aer Lingus turns getting an upgrade into a closed bidding war. Only transatlantic flights purchased directly from Aer Lingus are eligible. The airline notifies you via email when the bidding begins, listing a minimum and maximum price. Log onto the Aer Lingus website, make your bid (in addition to your airfare) and enter your credit card information. Aer Lingus charges your card only if you make the highest bid. To raise your chances of winning, search for the price of a business class seat on your flight. Subtract the amount you paid for your economy seat from the business class price. Bid 20 to 40 percent of the remainder, or just a little above the minimum.