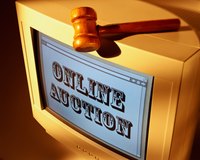 When home foreclosures become increasingly common, it is inevitable that home auctions will follow. Thus, if you are in the market to buy a house, you may have interest in attending a home auction; however, you need to know where to look beyond merely checking the newspaper. Several additional avenues for auction leads do exist.
Attend a government auction to buy a foreclosed home. You can find listings of auctions on USA.gov (see Resources).
Join an online premium foreclosure and home auction website such as RealtyTrac (see Resources). You will have access to the list of all home auctions in your area and live online home auctions as well. However, you must pay a membership fee, though it is possible to enroll for a free trial membership. This provides full access to the site's information, enabling you to determine whether buying a premium membership is worthwhile.
Attend a live online home auction. These websites walk you through the process step by step; thus, you are prepared to bid once the online home auction begins.
Contact your local realtor. Declare that you are interested in finding out more about homes available at auction. Your realtor should be able to give you any upcoming auctions. You may even want to call different realtors at different offices, because you may learn about even more auctions. Ask to be added to their mailing lists.