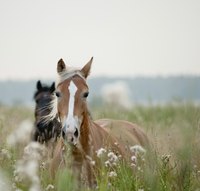 Whether or not you intend to breed your mare, it's important to understand her hormone cycles and how heat affects her. A mare in heat can disrupt riding, training and the safety of your mare. The drive to reproduce is a powerful one, and when in season, a mare's personality and focus can change abruptly.
Mare Fertility
The primary indicator in a mare's fertility is her age. Around 12 years, her fertility and subsequently the frequency of her seasons will decline. An older mare displaying signs of heat is not unheard of, however these signs may indicate an illness rather than reproductive drive. As a mare ages, her vulva drops, leaving it more susceptible to infection from manure and debris. An infected uterine tract can produce some similar behaviors to a mare in heat.
Mare Seasonality
April through September is the typical cycle for most mares. As the seasons change, in particular the amount of daylight, the mare will begin to show longer estrous cycles. It's important to note that for a few months on either side of April and September, the mare may produce irregular ovarian follicles capable of impregnation, and may not show signs of being in season despite her ability to breed during those months.
Heat Detection
During a heat cycle the mare's ovaries produce follicles in anticipation of egg and sperm. Other behavioral signs include urinating more than usual, a rapid opening and closing of her vulva, known as "winking", holding her tail high and receptivity to attention from stallions. Because ovulation can be somewhat painful, the mare also may be irritable, and lack focus when interacting with you. She also may discharge mucous from her vulva, during or without urination.
Timing is Key
On average, the length of a mare's heat cycle is around three weeks. During this time behavioral signs of heat typically occur for about five days during each given cycle. Ovulation occurs one to two days before her estrus ends. The mare can become pregnant when bred up to three days before the end of her estrus to six hours after it ends. Because semen can survive for up to two days, the window of impregnation is marginally larger than her actual ovulation.
Silent Heat and Foal Heat
Some mares show no behavioral signs of being in heat. These "covert" mares have normal heat cycles, but this silent heat cannot be determined by her actions alone. Palpation, cervical exams and uterine ultrasounds are the only way to determine these mare's seasons. Additionally, for seven to nine days immediately after foaling a mare will go through a heat cycle, with estrus lasting for five days. During this foal heat she can become pregnant, although pregnancy at this time can endanger the health of the mare.
Additional Information
During a mare's heat cycle, avoid approaching her from behind. Because her flanks are very sensitive during estrus, begin grooming from the head and neck, and gently work your way back. Her frequent urination and tendency to bite during her heat cycle can be disruptive to work and training. Careful observance and awareness of your mare's personality and habits are the best route to understanding her heat cycles and proceeding appropriately.