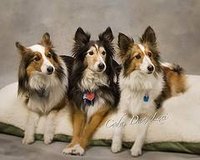 Shelties (or Shetland Sheepdogs) are notorious for being smart and easy to train in most areas. This small working dog looks like a miniature collie. Some Sheltie puppies can be quite shy and withdrawn. It is best to start socializing them with, both, people and other dogs as soon as they have had their vaccinations.
Train your sheltie as soon as he enters your home. Start by showing him where, in the yard, you want him to go potty. Take him there every 1 to 2 hours and praise him when he goes potty. Although, shelties are intelligent, a 2- to 3-month puppy is still a baby with a bladder to match. Shelties, being a toy breed, take a bit longer to house train.
Teach your sheltie some basic command words, such as "Stop," "Easy," "Good," "Sit" and "Stand." These should be easy to incorporate into your daily play and training sessions. This smart breed is eager to please and will learn quickly.
Train your sheltie when to bark. Shelties have the tendency to be known as barkers. However, you must understand they have been bred to do so. It is instinctual to them. Once you have determined that there is no threat, you will want him to stop barking. When you want your sheltie to stop barking, stand directly in front of him, put your hand up, facing him and say "Stop." When he obeys, give him a small treat, showing he has performed the task correctly.
Consider professional agility training if you have an interest. Shelties are agile and quick to learn. This would be a good activity for this breed, as they love to have a job to do, as is instinctual to their breeding of herding sheep.