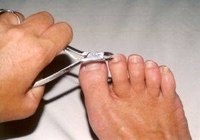 Although feet assist us in a variety of important functions, we rarely give them the treatment they deserve. Besides providing stability, feet help us remain mobile and active. Unlike hands, which receive special attention in the form of manicures, jewelry and lotions, feet are usually covered in socks and hidden in shoes. Without proper care feet can deteriorate in appearance, causing embarrassment. Avoid being ashamed to display your bare feet by making your feet look good.
Pay attention to your feet when bathing. It's not enough just to let water drip over them while you're in the shower. Bend down and wash your feet with warm soapy water. Pay special attention to the toes and soles of your feet. Ensure you clean between your toes thoroughly to remove oil and debris.
Exfoliate your feet regularly to leave feet softer and healthier. Use an emery board to sand away dead skin. Add foot scrub to a small tub of warm water before placing in your bare feet. Massage the treated water over your feet using your hands or a scrub brush to help exfoliate. Use pumice stones to aid in the process. Remove your feet from the water and rinse them thoroughly. Pat them dry with a clean cotton towel. Apply lotion to your feet after drying.
Trim your toenails. Your toenails shouldn't resemble talons before you cut them. Trimming your toenails makes your feet look good and can help prevent foot injuries. Use a strong toenail clipper to make straight cuts. Shape your toenails by filing them regularly.
Apply foot lotion regularly to keep feet moisturized. Avoid dry, peeling feet by using lotion specifically designed for intense penetration. Massage the lotion into your feet, taking care to avoid over saturation. Allow the lotion on your feet to dry before placing them in sandals or enclosed shoes to prevent slipping injuries and infections.
Resist the urge to squeeze your feet into ill-fitting shoes. Although you may receive temporary pleasure from jamming your feet into the "perfect" shoe, your foot health may be affected permanently. Conditions such as corns, bunions and hammertoes can be worsened by continued wear of uncomfortable or poorly fitting shoes. Try on shoes before you buy them to ensure your feet and toes aren't pinched or cramped and that the shoes don't rub, which can cause blisters.
Treat conditions such as ingrown toenails and athlete's foot. Simply keeping your shoes on isn't an appropriate way to address foot problems. Avoiding these problems can make your feet look old and unhealthy. Visit a doctor to have ingrown toenails removed. Use topical athlete's foot treatments to alleviate burning sensations and irritation.