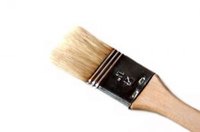 If you are starting your own company as a painter, or just doing a few painting side jobs for friends and neighbors, you need to be able to estimate a price for these jobs accurately. This is when a price list comes in handy. A price list is important so you can offer your customer a menu of services, and then give them an accurate bid according to their needs. Creating a price list for a paint job keeps the lines of communication open between you and the customer and ensures that both of you are happy when the job is done.
Decide first on a cost for your labor. Most painters would bid the labor hourly. If you decide on a flat rate of $20 per hour, you can estimate how long it will take you and give the customer a price for labor easily. Add "Labor" to your price list.
Choose what kind of prep you can do on the home and add that to your price list. For instance, if a homeowner wants you to remove the old paint, lay the drop cloths, and other prep, you need to assign a price to each of those activities for your price list.
Assign a price to a gallon of paint if the customer wants you to supply it. Of course, if they supply their own paint, then you need not charge them. However, if you are using paint from your own store, estimate how much paint you will need to cover the home. A gallon of paint typically costs $30 and one gallon of paint can cover roughly 200 sq. ft. Multiply the size of the home by how many gallons of paint you expect to use and add that to your price list.
Decide on what you'll charge for certain special effects. Finishes such as sponging, stippling and other faux finishes are extra work and should cost more. Price them according to how intricate and time-consuming they are. For instance, sponging is fairly easy, but doing faux finishes can take a lot of work. Price accordingly.
Charge for any miscellaneous items that you used during the painting process. Assign a price for masking tape, paint brushes and rollers, drop cloths and other supplies you had to use. You can simply use the price you paid for them as a guide, or add 20 percent to cover your time in going to purchase the items.