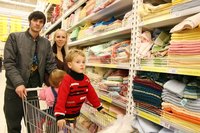 Regardless of whether your business is new or has been operating for a while, you need to attract new consumers to purchase your products or services. Thanks to the explosion of the Internet, the potential to bring in new customers now extends well beyond the traditional brick-and-mortar business.
Things You'll Need
Understand what sets your product or service apart from others. Competitors are most likely selling the same product or service; figure out what is it about yours that would entice people to buy from you instead and highlight this quality in all your advertising and promotional materials.
Know your target audience. Become familiar with the people who are most likely to buy your product. Regardless if it's men over 40, stay-at-home moms, tweens or seniors, understand your target audience and have an idea of the magazines they read, the websites they frequent and what they watch on TV. Knowing who you are targeting will help you focus your marketing and advertising efforts.
Create marketing materials that project a positive, attractive image to the public. Focus your advertising efforts to catch the attention of your target audience; run ads in publications they are likely to read, attend an event where they may be found, and leave brochures, flyers and business cards in places they are most likely to congregate.
Treat loyal customers exceptionally well. Consider offering "exclusive" deals and special discounts occasionally to frequent customers. Depending on the type of business you have, consider a frequent shopper's card, where customers earn something free after a certain number of purchases. You also can consider offering a savings program each time they refer a new customer to you.
Create a website if you don't have a one already and sell your products online, where you can reach a new market from across the globe. A presence on the Internet is often the fastest way to grow a retail business. Another option to increasing your web presence is to sell your products on auction sites and utilize social-networking sites to market your business.