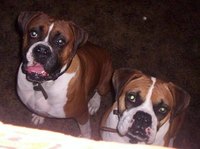 Boxers are gentle giants. They are perfect for any family because they are so loving and giving. Giving your boxer the best nutrition and food you can provide will ensure not only a happy boxer, but a long and happy life. Boxers are known for their sensitive stomachs, so a little planning and know-how is needed before venturing out to make homemade dog food for this breed. After going through these simple steps, you will be the head chef of boxer food.
Things You'll Need
Grains (oatmeal, bread, barley, rice)
Meat (muscle tissue meat)
Vegetables (frozen or canned)
Stock (vegetable, chicken or beef)
Plastic tubs with lids
2-cup measuring cup
Place a 20-quart stock pot on medium heat.
Cook rice or oatmeal according to package instructions.
While your grain is cooking, prepare your meat. Using a frying pan works just fine.
After the grain has been completed, put in vegetables and stock of your choice and return to low heat.
Add the meat once it has thoroughly cooked.
Divided the mixture into plastic tubs with lids and store in the refrigerator.
Use a 2-cup measuring cup to portion the serving for your dogs.
Microwave the meal for 1 to 2 minutes.
Add 2 to 3 pieces of broken up bread and serve.