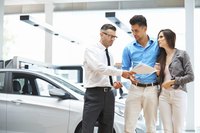 Guaranteed auto protection, commonly referred to as gap insurance, is important to all lessees and anyone with an auto loan balance larger than the actual cash value of a vehicle. Although lessors commonly incorporate gap insurance into a lease agreement, few insurers include gap coverage by default. Just as with other types of insurance, gap protections and prices vary between insurers. This makes research and comparison-shopping essential.
Gap vs. Loan/Lease Insurance
Make sure you're purchasing the right insurance. Gap insurance and loan/lease insurance both apply in a total loss accident, and are similar but not the same thing.
Gap insurance covers the entire difference between the current loan balance and the vehicle's actual cash value.
Loan/lease insurance usually covers about 25 percent of the vehicle's actual cash value.
For example, if your loan balance is $30,000 and after a total loss accident your auto insurance determines the actual value is $22,000, gap insurance would pay the entire difference, minus the deductible. However, loan/lease insurance would pay only $5,500, minus the deductible. The difference could leave you with an outstanding balance after both insurers pay.
Estimate Insurance Needs
Review the loan amortization schedule that came with your loan documents or use an online auto loan amortization calculator to find the outstanding balance of your loan. Then, determine how much your vehicle has depreciated since the purchase date. According to CarsDirect.com, a new vehicle depreciates about 20 percent in the first year, and about 15 percent in the second and third years. Use these tools to decide not only how much gap insurance you need, but also when it's no longer necessary.
Shopping Options
Check your existing auto policy to make sure you don't already have gap insurance. If not, the two most common options for purchasing gap insurance are from the dealership where you purchased the vehicle or from an auto insurance company. Although the choice is always yours, Bankrate recommends that you shop around before deciding to purchase gap insurance through a dealership. In most cases, dealership insurance will be more expensive. Your current insurer, which may be able to add gap insurance as a rider to your current policy, often is the most cost-effective starting point.
Compare Policy Inclusions
Get the details in writing for each policy you're considering. Conduct a line-by-line comparison, looking at not only the price and deductible, but also what each policy covers and excludes. Three common differences between policies are:
Whether the policy will cover overdue loan payments
Whether the policy will cover a carry-over balance from a trade-in rolled into the current loan.
Whether the policy will cover the cost of an extended warranty rolled into your loan