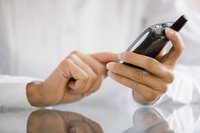 The United States Postal Service offers a variety of services at official post offices located around the country as well as at other approved locations that might be more convenient to use. There are a number of ways to locate a local post office, including using your computer, smartphone or an old-fashioned telephone book.
Search Database
Use the Post Office's "Find Locations" database at https://tools.usps.com/go/POLocatorAction!input.action to find post office locations in your area. Search for a post office by city and state or via ZIP code. You can choose to conduct your search so that it brings up locations anywhere from within 1 to 100 miles of the location you input. You can also refine your search to find post offices and approved postal providers, or choose from collection box locations and self-serve kiosks.
Phone Book
The USPS is also listed in traditional print phone books. To find a post office in your area, look in the section titled "Government Offices" and then look for the "United States Government" category. From there, look for the United States Postal Service. Some phone directories further break down listings into sections, so look for "Postal Services" if you can't find the listing otherwise.
Mobile Apps
Smartphone users can download the USPS Mobile app to find a post office in their area. The app works on Apple iPhones, Blackberries and Google Androids. The app helps you find approved postal providers, and you can also look up zip codes, calculate shipping fees, schedule pickups and track packages sent through USPS. The app is free. You can also find a post office using the Post Office app available for Google Androids. This app indicates whether a particular post office handles passport applications, indicates other specific services and gives you a complete address if you only have the ZIP code. To find more information on mobile apps, go to https://www.usps.com/yourpostoffice/.
Phone and Internet Searches
Another option is to call the USPS toll free number at 1-800-275-8777 and use the automated system to find a location. You need the zip code for the area where you want to find a post office to get the address and hours of one in that area. If you don't know the zip code, follow the directions to talk to a customer service agent for assistance. Internet search engines such as Google give you another way to find a post office. Type in the name of the city and state plus the words "post office" in the search field. The results show the address, phone number and a map highlighting where the post office is located.