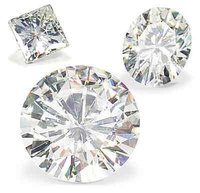 Moissanite diamonds are an amazingly close replica of real diamonds, mimicking their clarity and brilliance with staggering accuracy but, surprisingly enough, aren't diamonds at all. These beautiful crystals are composed of particles from a fallen meteor. The price is a fraction, and the quality is comparable to real diamond. Caring for these shiny crystals is imperative to keep them looking brilliant. It's an easy process that's well worth the time and effort.
Things You'll Need
Toothbrush
Lint-free cloth
Mix a solution of warm, soapy water in a bowl: 1 tbsp. of dish soap and 1 qt. of water would be an adequate mix.
Set the Moissanite diamonds in the bowl and allow them to soak for five to 10 minutes. Agitate the water periodically with your hand to help loosen dirt and debris.
Use a toothbrush to help gently scrub away any dirt or grime that may be clinging to the stones.
Rinse the Moissanite diamonds in clean, warm water.
Dry the stones with a soft, clean, lint-free cloth, and buff to shine.