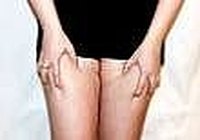 If you want to slim down thighs then you're not alone there are millions of women who are in the same boat you are. Some of them may never be able to get their thighs to look the way they want them to. However, there is no reason why they can't make them look better. That is, if they're willing to make a few lifestyle changes and give up their unrealistic expectations.
When you decide you want to slim down thighs you need to have a plan. First of all if you're over weight you need to lose it because you have to lose overall body fat to lose fat in the thighs. You can target the thighs with exercise to tone them, but not to lose them.
Each person loses weight differently that's why one diet doesn't work for everyone. To personalize it for yourself you need to write down what you're willing to give up and follow through. You do this by learning about calories and how to calculate the amount of calories you're eating and how many you're using.

Once you learn how to calculate calories you need to reduce your daily caloric intake to 1200-1500 no less than 1200. It's best to do this a little at a time by eating 200-500 less a day till you reach your goal.
While you're working on this you begin a workout that works the entire body, but work the thighs a little bit harder than other areas. A good aerobic/step video is a great way to get started if you don't want to go to the gym.
There are certain leg exercises that will help slim down thighs and tone more so than others due to level of difficulty. Those two exercises are the lunge and squat, both work the entire leg as well as the thigh and increase calories burned.
The most important part to get down is proper form and balance. In addition, pay close attention to how deep you take the squat and how wide the lunge. The deeper/wider you go the more you work the upper thigh and butt. It may take a while to get them down pat just don't give up.

You can use an exercise ball to assist you in squats and lunges this way they aren't so difficult. Youtube has videos of how to use the ball for most everything including thigh workouts. Additionally, always do a warm up and stretches before you do leg work to prepare muscles and avoid injury.
Some people may not be able to slim down thighs as much as others due to genetics. If you come from a family that has big thighs there will be nothing you can do to change that. So, you need to be realistic and do what you can with diet, toning and wearing clothes that flatter your figure.
One last tip is that a real tan or sunless tan will help thighs look slimmer. I've heard people say tan fat looks better than white fat and I tend to agree.