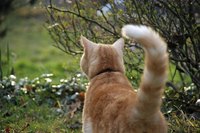 Your cat's tail signals his moods, and you love to see him carry it upright. That means he's a happy, content kitty. His tail contains numerous vertebrae; fracturing any of those tiny bones results in a broken tail. Treatment and prognosis for a feline's broken tail depends on various factors, including nerve sensation and the severity of the break. Take your cat to the vet immediately if you suspect he's suffered tail trauma.
Broken Tail Signs
If you know your cat experienced some type of tail trauma, keep a close eye on him. Signs of a broken tail include urinary or fecal incontinence, tail dragging and lack of balance in the hind legs. Your vet will check for tail sensation and tail head pain. Your vet will take an X-ray to determine the extent of sacrocaudal -- the name for those little tail vertebrae -- fracture.
Simple Fractures
If your cat suffers a simple tail fracture near the tip -- perhaps from a door closing on it or someone stepping on it especially hard -- your vet might recommend letting it heal on its own. Placing a cast on a little bone generally does little good, and it becomes a major irritant to most felines. About six weeks after the accident, your cat's tail should be fine. You might notice a small bump on the tail after healing, the only sign anything was ever amiss.
Nerve Damage
Your cat's spinal cord ends before his tail head. However, nerves to his hind legs, bladder and anus can suffer damage in a tail accident. Your vet will pay particular attention to the rectal area and the bladder. If your cat has no anal tone, your vet can perform an electromyogram, which tests whether there is nerve activity. If so, there's a good chance your cat eventually will recover bowel control. The majority of cats with nerve damage and the inability to urinate and defecate normally will do so within a week after the injury. While it can take up to six months for maximum nerve healing, a cat who remains incontinent after the first month is unlikely to recover.
Tail Surgery
In some cases of fractured or dislocated tail vertebrae, surgery is an option, although most vets will allow the tail to heal on its own. After surgery, a cat will require a bandage on the tail, which means most felines also will require an Elizabethan collar during recuperation and cage rest.
Tail Amputation
If your cat's tail is severely injured, your vet might recommend amputation. That's also true if your cat suffers significant nerve damage in the tail. If his tail remains, he's likely to have fecal material and urine stuck to it often. Constant dragging could cause further nerve damage. The surgery is relatively simple, and most cats recover quite well. It can take some time for your cat to become as mobile as he was, but eventually you'll find him jumping on the counters or sitting on top of high places.