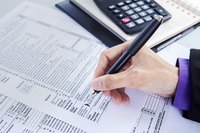 The older your child gets, he will have to face the reality of taxes. That's why it's important to introduce to your child the idea of taxes and their significance as early as possible. One sign that he's ready to discuss this topic with you is that he begins to ask questions about it. This will also teach your child financial stewardship skills that will help them throughout life.
Ask Questions
Ask your child what he knows about taxes, why we must pay them, and how the government uses them. By so doing, you can gauge what your child already knows. Don't be surprised if his knowledge exceeds your expectations, even though he's relatively young. As expert banker and Green Street Commons President Neale Godfrey suggests, age 10 is an appropriate time to start training your child. Depending on his answer to your questions, however, he may be ready to learn about taxes as early as age 9 or as late as age 11.
Keep it Basic
Tell your child that taxes come from multiple sources. For example, each state imposes a sales tax on most purchased items, including clothes. The next time you take him to a clothing store, he'll probably see a $10 T-shirt he likes. Explain him that even if the tag says $10, that's not the actual price he pays. That depends on the percentage of sales tax your state has levied. If the amount is six percent, he would actually have to pay $10.60. Then speak to him about owning a home, a business, or about winning the lottery, and that he is responsible to the government for paying taxes on all of the above.
Teach Your Child About Income Tax
Give your child an allowance. Assign him chores around the house, such as vacuuming the floor, washing the dishes, or cutting the lawn. As Forbes Magazine suggests, if you assign a $10.00 wage to him per week, keep back a dollar from him, giving only $9 to spend. Tell him that you're holding the missing dollar back for taxes. Inform him that wherever he works, his place of employment is required to take out so much for taxes.
Teach Him the Benefits of Taxes
Invite your child on a walk around the neighborhood. According to Godfrey, you should take him to the fire station, the library, and the school he attends. Explain to him that these are facilities for which the government uses tax dollars, and that this money is used to keep them running. Moreover, on trash pickup day, if you see a trash truck roaring by, let him know that tax monies pay for sanitation. Also, as you pass by the police station, tell your child that it's taxes that keep him safe.
Explain the Significance of April 15
Mark the date on your wall calendar. Show it to your child, pointing at it. Explain that this is the day that all tax information and monies are due, and that all citizens must fill out a tax form 1040. Tell him that by the end of January of every year, your employer must send you a wage statement that tells you how much you made the previous year. This is what you must use to fill out your tax forms.