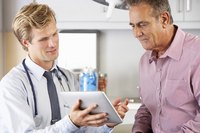 Patients and their families have an increasingly wider range of options in choosing where to receive medical care. This not only increases competition for their business, but also underscores the need for health care facilities to view patients as customers. However, according to Micah Solomon, an author, speaker and customer service consultant, many health care providers and institutions set the customer service bar too low. Taking steps to improve customer service can increase retention rates, attract new customers and improve both the perceived and clinical quality of outpatient and inpatient care.
Promote Collaborative Communication
In a collaborative health care environment, work shifts and departments function as one unit with the shared goal of serving the best interests of each patient. Collaborative communications allow for more than one perspective in creating care plans and consider the client's personal experiences, social circumstances and cultural heritage in face-to-face interactions. Implement regular pre-shift and post-shift meetings and group care planning sessions to set expectations, clarify responsibilities and improve the caregiver-client information flow.
Decrease Wait Times
Long wait times can significantly affect customer service perceptions. Carole Guinane, an author and vice president of ambulatory surgery center operations for Novant Health, recommends that you decrease wait times to 10 minutes or less. Provide customers with wait-time information during check-in and share updates if any bottlenecks should change the original expectation. In addition, Guinane recommends that you encourage patients to ask for updates if the expected wait time passes and they don't receive an update.
Use Non-clinical Language
Don't confuse efficient service delivery with moving customers through a conveyor line system. Instead, schedule enough time with each client to provide both health and customer service-oriented care. Listen carefully, actively encourage patients and their families to ask questions and provide honest feedback using language a client understands. This is vital to engaging customers and improving customer service outcomes. Hold staff accountable for following through on promises they may make to patients or family members such as returning phone calls or updating a prescription.
Make a Good First Impression
Emphasize that you never get a second chance to make a good first impression. Create a customer service policy and service procedures that focus on delivering excellent customer service. While these should apply to employees at every level, it's vital to make sure that front-line employees such as receptionists and appointment-setters receive initial and ongoing customer service training. According to Guinane, training on appropriately welcoming and checking patients in is one of the most important areas.