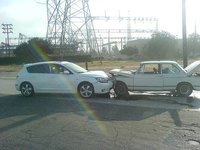 In 2007, 37,248 fatal automobile crashes were reported in the United States. These numbers, coupled with those we've known who have been victims of fatal car accidents, make us ever cognizant of how dangerous driving can be. Despite this knowledge, everyday distractions such as phone calls, music and texting have become so ingrained in our daily routines that driving itself becomes a test in self-control. While you can't control the actions of others on the road, you can better your chances of remaining crash-free by instituting these steps into your daily driving routine.
Check tire pressure regularly. Low air pressure can result in the tire blowing out mid-trip, risking an accident when the car veers with the impact of the blow.
Give yourself plenty of time to arrive at your destination on time. When deciding on what time to leave, allow a bit of time for unforeseen instances that might delay you, such as traffic or weather issues.
Ensure that you are fully rested before attempting to drive a vehicle.
Position mirrors once you have seated yourself in your car. Attempting to position your mirrors while driving takes your focus off the road and increases your chances of being in an accident.
Stow all phones and texting devices. Refrain from using these devices until you have arrived at your destination or, in the case of an emergency, have found a safe place to stop.
Focus on your driving at all times. Remain aware not only of what you're doing but what those drivers around you are doing as well.
Limit distractions. Putting on makeup, fixing hair and consuming food should all be done before you are on the road.
Use your turn signal before executing a turn or lane change.
Check side and rearview mirrors before executing a lane change.
Maintain a distance of about two or three cars when following another vehicle.
Look both ways before proceeding through an intersection or traffic light. While you may have the right of way, you cannot always trust other drivers to obey the rules of the road.
Drive within the speed limit range. Excessive speed lessens reaction time, which is imperative when avoiding stalled vehicles, reckless motorists and other unforeseen obstacles while driving.
Replace wiper blades as soon as they become dull.
Refrain from driving in inclement weather conditions if at all possible. If you must drive in these conditions, maintain a safe, usually slower, speed and keep a distance of about five to seven cars between yourself and any vehicle in front of you.
Turn on headlights when driving in darkened conditions or when weather affects visibility.
Never drive under the influence of drugs or alcohol. If you're traveling to an event in which you know you will be consuming alcohol, ensure that you have a designated driver. In the event that you have no designated driver, call a cab.