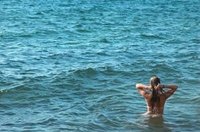 Acne is caused by a buildup of bacteria in the skin's pores. It consists of comedones (blackheads), non-comedones (whiteheads), pustules (pimples) and nodules (cysts or boils). Acne on the buttocks can be annoying and sometimes painful. It is often difficult to get rid of, due to the inability to reach the area in order to treat the infection. Fortunately, there are a few methods that will help you eliminate acne on your buttocks.
Things You'll Need
Bleach
Spray bottle
Acne medication
Buff puff or back scrubber
Mint mask
Change your bedding every other day until your acne disappears. When you sleep, bacteria is transmitted to the bedsheets, and you will continually reinfect the area if you do not change your bedding often. Wash in bleach or antibacterial laundry detergent in hot water to kill any infection.
Wear cotton underwear and loose fitting pants. Acne needs room to breathe in order to heal. If acne is caused by ingrown hairs, it may be exacerbated by material rubbing against your skin. Keep clothing as loose as possible, and wear breathable fabric.
Spray the toilet seat with bleach after each use in order to avoid spreading the infection from the toilet seat back to your buttocks.
Exfoliate your buttocks daily. Use a back brush, a buff puff or an acne scrub. This will eliminate dead skin buildup that may clog the pores and contribute to acne. Wash with an anti-bacterial soap to kill any bacteria that may be causing the breakouts.
Use a mint mud mask once or twice a week on your buttocks to pull out any deep infections. Wash the affected area with antibacterial soap, then apply warm washcloths to the area for a few minutes. Dry thoroughly and then apply the mud mask to your buttocks. Lie on your stomach on a flat surface, allow the mask to dry, then remove it with warm water.
Use an acne product that contains salicylic acid or benzoyl peroxide to treat the affected area. Consider a prescription drug like Retin-A tretinoin to treat the infection. A dermatologist may prescribe antibiotics for nodule or cystic infections. In some cases, acne is sometimes caused by a staff infection in the blood, which can be controlled with antibiotics.
Do not pick at your acne. If you must extract a growth, remove it using clean tissue and light pressure so you do not cause scarring. Follow by cleansing with anti-bacterial soap and a toner to close pores.