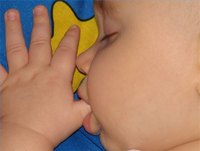 Bronchitis in babies is a result of swollen, inflamed bronchial tubes. Babies and young children are at higher risk for developing bronchitis due to their developing immune systems and respiratory systems and narrow bronchial airways. There are two types of bronchitis in babies. Acute bronchitis is usually the result of a cold from a bacterial or viral infection. Chronic bronchitis develops from allergies or exposure to smoke and environmental irritants that are inhaled. Proper treatment and medication is essential for treating bronchitis in babies to prevent damage to their developing respiratory systems and prevent severe infections.
Sanitize all areas of your home vigilantly and any item that your baby may come in contact with. Wash your hands and/or sanitize with a hand sanitizer to maintain personal hygiene and prevent passing germs to and from your baby.
Continue to breastfeed or formula feed your baby. It is essential to maintain a regular eating schedule to prevent dehydration caused from excessive mucus and phlegm production.
Use a vaporizer or humidifier to increase the moisture in your home's air. Moist air aids in loosening mucus from your baby's airway and will help relieve coughing due to the bronchitis. Use an infant-formulated saline solution to treat nasal congestion. Follow guidelines for administering the drops to loosen mucus and allow easy removal with a bulb syringe.
Give your baby an expectorant that has been approved by your pediatrician to loosen and treat chest congestion. Administer infant acetaminophen or ibuprofen to reduce and stop fever and ease sore throat pain. Avoid the use of any medications that contain aspirin to treat babies with bronchitis. Using medication with aspirin can result in a severe and potentially fatal reaction known as Reye's Syndrome.
Avoid exposure to breathing irritants such as smoke or outdoor allergens and dust. Limit your use of cleaning chemicals indoors and opt for natural alternatives such as baking soda and vinegar that do not create irritating fumes that can irritate bronchitis infections.
Administer all medication and antibiotics prescribed by your pediatrician completely, even if your baby's symptoms show improvement. Your pediatrician may recommend routine breathing treatments for severe bronchitis infections that are performed with a nebulizer, mask and medication liquids.
Monitor your baby while treating for bronchitis to make sure he is not having problems breathing that is noticeable by rapid and/or shallow breathing, severe wheezing, drawing the chest and neck in when breathing, flared nostrils and blue discolored fingernails and lips.